How to Rewrite a PLR Recipe Post With Jasper.ai
Let's face it: many bloggers are lazy when it comes to recipe posts. If you're specifically a food blogger, you probably have an awesome flow and you are good with subheadings, questions, extra ingredients, etc. The rest of us? We need some help! SOS! That's where Jasper.ai comes in.
Heads up: links in this post are affiliate links, so I earn a commission if you purchase.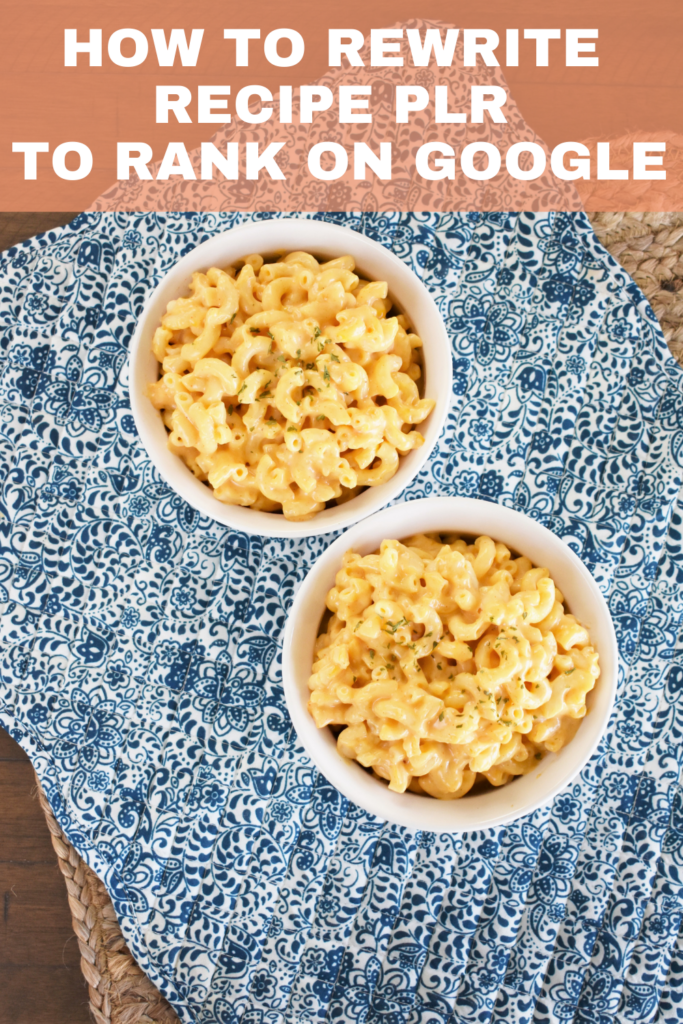 How to rewrite recipe PLR with Jasper.ai
What makes a good recipe blog post? You can ask 100 bloggers (and readers) and get 100 different answers. When I write recipe posts, I try to focus on what Google wants (good info, answer targets, keywords) as well as what my readers want (their questions answered, plus helpful info like what else they can add to make it a new, unique dish to impress their friends).
Combining Google + readers is easy when you answer their questions before they ask them, and stick to the topic at hand. The number one complaint I see online is "stop telling 1000 word long personal stories in your recipes!!" Now, some bloggers do well with personal stories, and some readers appreciate them. But overwhelmingly, people just want the dang recipe.
How do you get them from "just wanting the recipe" to be willing to read through a 1,000+ word post? Deliver value.
Delivering value takes time. If you want to cut that time in half (at least), use Jasper.
Intrigued? I wrote a complete Jasper guide over on my personal blog this week.
Where to find the best recipe PLR
Good recipe PLR is hard to come by. The only place other than plrforblogs.com that I have found for recipe PLR is KitchenBloggers. The best recipes will have at least one in-process photo as well as a few final photos to choose from. It will also have the ingredients and instructions. If there's only one final photo, I don't recommend buying it because then evvvvveryone will have the same exact photo. Yuck.
One way to mix photos up is to create collages in Canva or PicMonkey, or use the "flip" feature and change the angle of the photos. This doesn't make them 100% unique by any means, but this, combined with adding your branding, makes your recipe pretty darn awesome. And what's just as important as photos? CONTENT!
3 "must haves" in every recipe post
My 3 must haves when I'm writing a blog post for a recipe are:
photos & pin image
ingredients & instructions
troubleshooting & adding ingredients
Well, I guess that's kind of 6 things, but we're going with it. Jasper can't help with your photos and pin images, but the other stuff? Oh yeahhhhh.
How to rewrite recipe instructions with Jasper
This can get tricky because you don't want to change the outcome of the recipe, but you also don't want your recipe post and long form instructions to look like everyone else's who bought the same PLR (or semi-exclusive), right?
Using the "content improver" template, I input the basic instructions and Jarvis spits out a paragraph or two. I break those paragraphs up and put a photo in between so it's not one big wall of text. For this example. I used my Instant Pot Macaroni & Cheese PLR recipe for this post.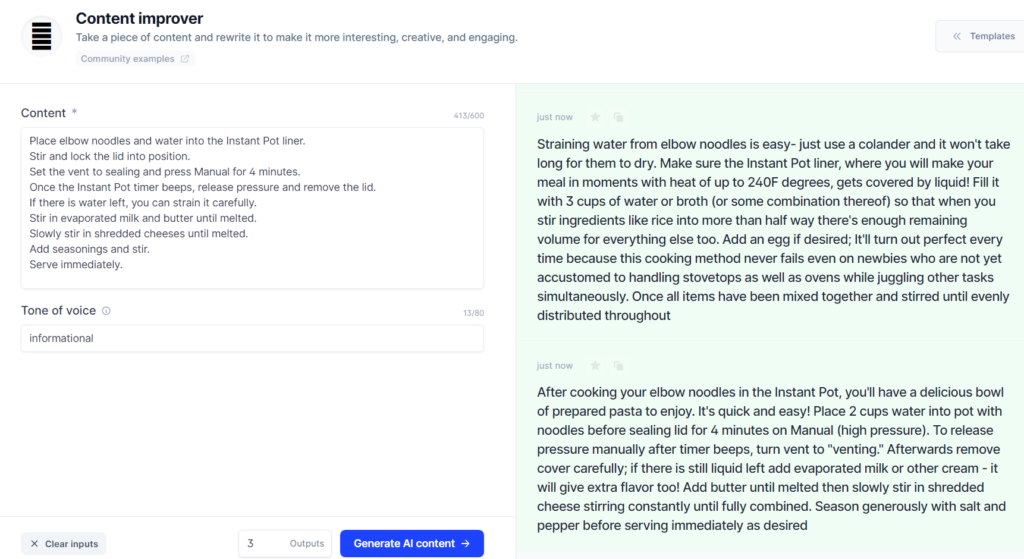 When using Jasper this way you have to make sure it all makes sense! Jasper is still just a tool, Artificial Intelligence, and you have to be the "final say" before you hit publish on any blog post. If the instructions match up, go ahead and move on to the next step. If they don't, reword them a bit or ask Jasper for more outputs.
Sometimes I'll combine the text from all 3 outputs and make it a little more cohesive. I like to give general instructions throughout the post, and then give the simple step-by-step recipe instructions in my recipe card.
If you don't include long-form instructions in your post, that's okay. Next, we're going to add in questions and extra ingredients – two fan favorites! 😉
Troubleshooting
Say we're still on the Instant Pot macaroni and cheese recipe. Head over to Google and type in your search terms, or type in a question you know your readers will have. Like… "Instant Pot mac n cheese soggy pasta", or "how to cook macaroni in the Instant Pot". However you do your usual keyword research, don't skip that part!! Jasper is a tool to help you with this, not to replace anything related to SEO.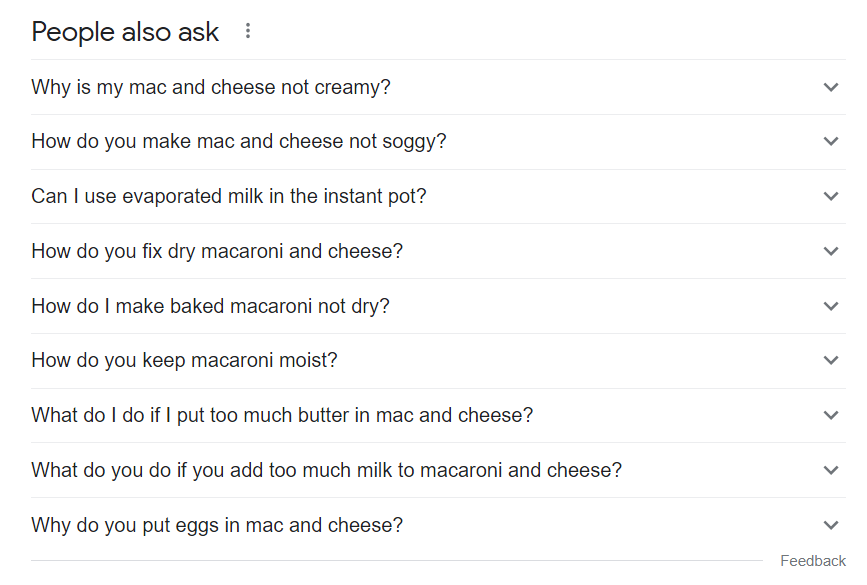 You can plug these questions into Jasper to get answers, or answer them yourself and then use the content improver if you want help rewording them.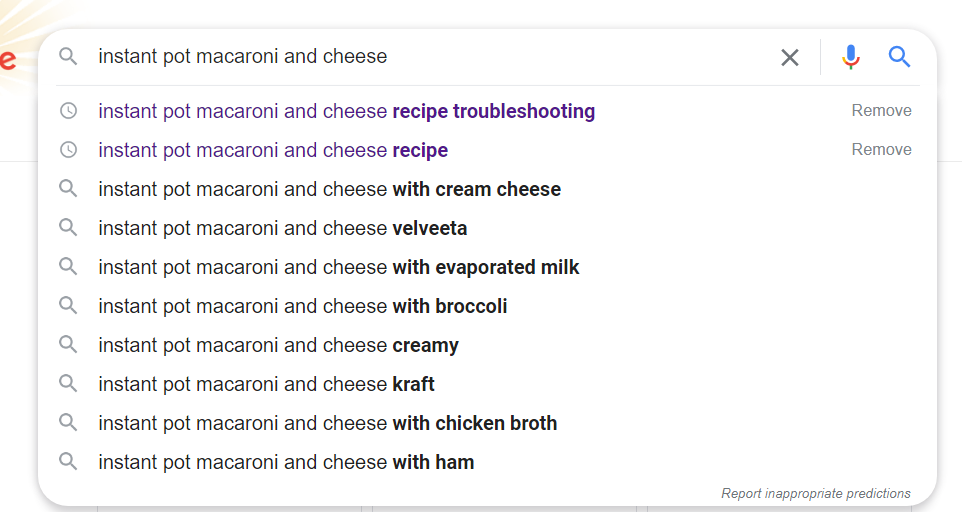 My next step is to head back over to Google and see what Alphabet Soup* gives me. I see a few more subheading ideas. What happens if you add cream cheese? Does that prevent the dryness that so many complain about? What is the purpose of adding chicken broth? Does it enhance the flavor?
*Alphabet Soup is searching Google like this: "macaroni and cheese a", "macaroni and cheese b" and letting Google's suggestions pop up and give you more ideas based on what people are searching for.

If you're unfamiliar with the process of cooking Instant Pot mac & cheese, that's okay. You can use the Quora Answers template to dive in and see what problems other people are having with similar recipes – so you can fix these problems for your readers ahead of time.
Extra ingredients
Back to Alphabet Soup, we are going to see which ingredients we can come up with for an "add-ins" section. My readers absolutely LOVE when I tell them how to dress a recipe up and make it unique. Especially with a recipe like mac n cheese, everyone has their preferences so if you're cooking it for a potluck you want to impress the heck out of them, right?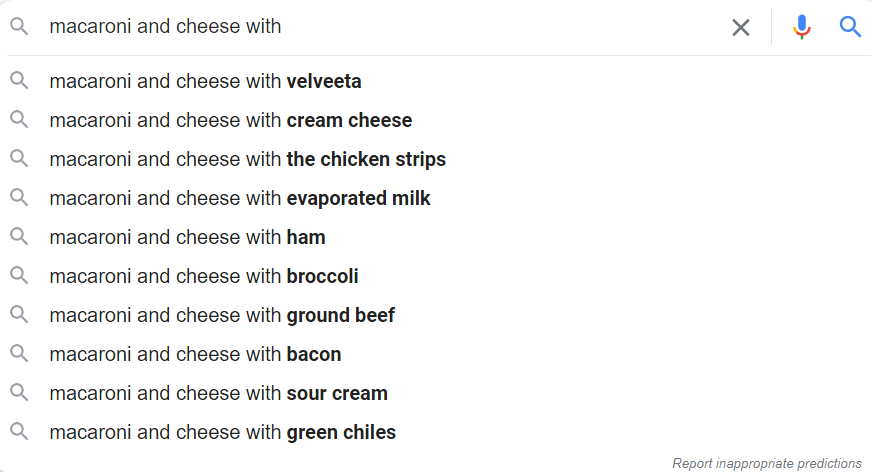 Those are some good options but look what happens when I put in "macaroni and cheese with a":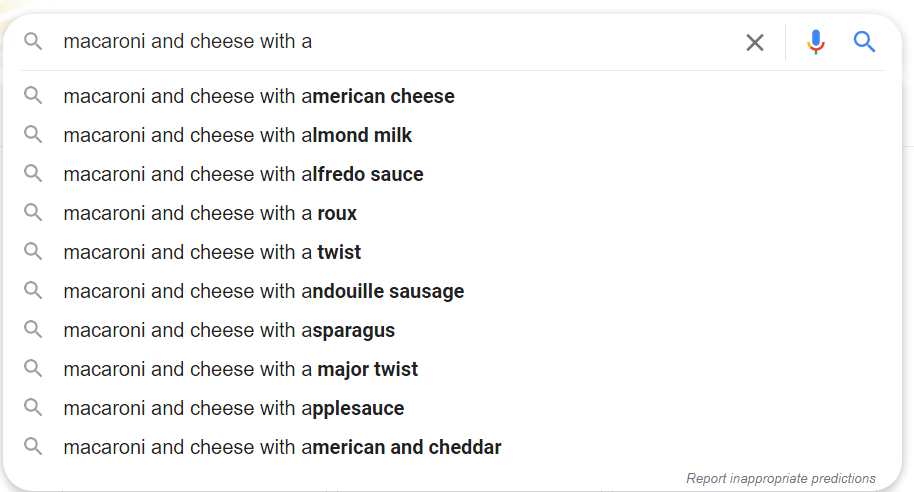 So many ideas! And, that's just with one letter.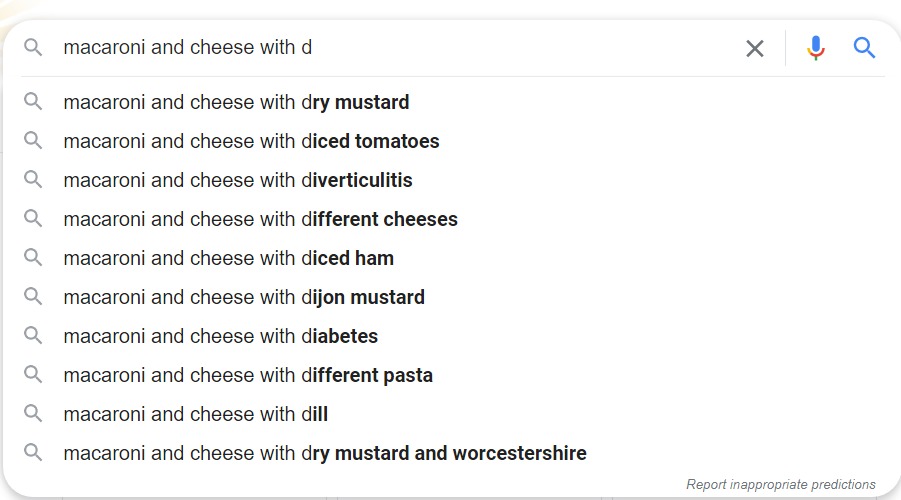 You could even have sections in your post talking about how to make it spicy, how to make it creamier, how to add more protein, etc. There are so. many. options. If you just take this one extra step, your posts are going to be so much more helpful than at least half the others out there!
Write for your readers. Deliver value to them in every single post, and even if you have a brand new blog, you will start ranking, getting your posts shared on social, etc. Sometimes new bloggers get intimidated because they don't have the domain authority needed to get their recipes on the front page of Google, but if you're delivering more value than anyone else, your posts will naturally rise to the top and be shared.
Templates to use for recipe posts
Use the "engaging questions" template to come up with fun questions to ask your social media followers! You can also grab some of them to answer in your blog post.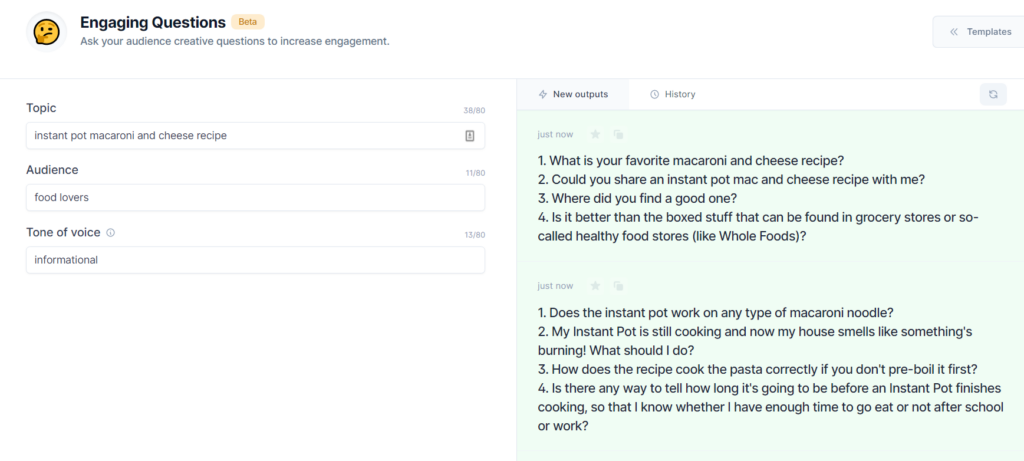 For example, "does the Instant Pot work on any type of macaroni noodle?" would be a great question to answer in your blog post. Answering "how does the recipe cook the pasta correctly if you don't pre-boil it first?" would go a step beyond what most food bloggers are willing to dig in and explain.

The other templates I use for rewriting recipe posts include the long-form assistant (only available on PRO), and the intro and conclusion paragraphs. I struggle with writing either of these, so Jasper has been a lifesaver for me in this respect.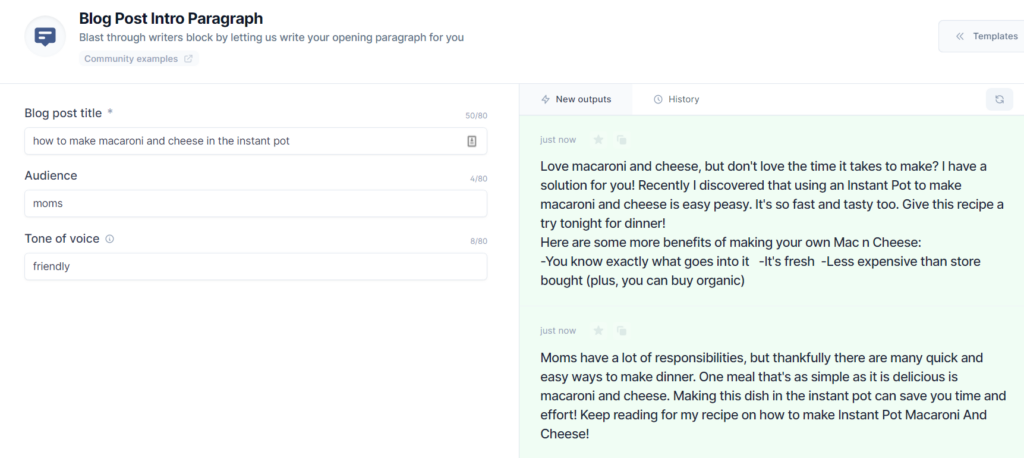 I often combine a few intro paragraphs from Jasper to create my own unique version of them, but it still saves me time because I'm not having to come up with all of it from scratch.
Tone of voice
Another way to make your content unique is by changing the "tone of voice" Jasper uses. Some of my favorites include:
informational
friendly
kind
The tone of voice doesn't always change the output a whole lot, but I have found that if I use the same tone of voice throughout my post, it flows much better.
Try Jasper
Using tools like Jasper to rewrite recipe posts (or any posts) will save you so much time and money, it's a no-brainer to at least try it out. You can use my referral link to get a free trial and 10,000 free credits when you sign up for the standard Jasper plan. Jasper PRO offers unlimited credits, and the long-form assistant as well as Power Mode (my favorite), where you can use all of the 50+ templates inside one document!
I am a writer. I absolutely LOVE writing all of the PLR content that I do each day. But for all of my blogs, I use Jarvis on almost every single post! If you haven't tried it yet, you're 100% missing out.
Leave a link below to content Jasper has helped you create and I'll share it across social media. 🙂
>>>YES- Jasper used to be JARVIS (name needed to be changed)<<<
More Jasper Posts (on my personal blog):