How to Grow Your Email List With PLR
Why do people sign up for your email list? Hopefully because they think you're awesome and talk about helpful stuff in the emails you send out each week. But honestly, we all know people really sign up for our lists for the freebies. What makes you say "I need to be on that mailing list"…? Especially when your inbox is already overflowing!
Make it awesome.
When you create an opt-in, or when you're sending out freebies to your list, it needs to be something you'd be satisfied with selling! Yes, this means putting extra work in up front, but it pays off in the end once you get a nice funnel set up. Just like with guest posting, you want to make sure you're putting out your BEST work. Always putting your best foot forward is a great way to stand out above and beyond everyone else who is sending generic, not very well thought out, emails.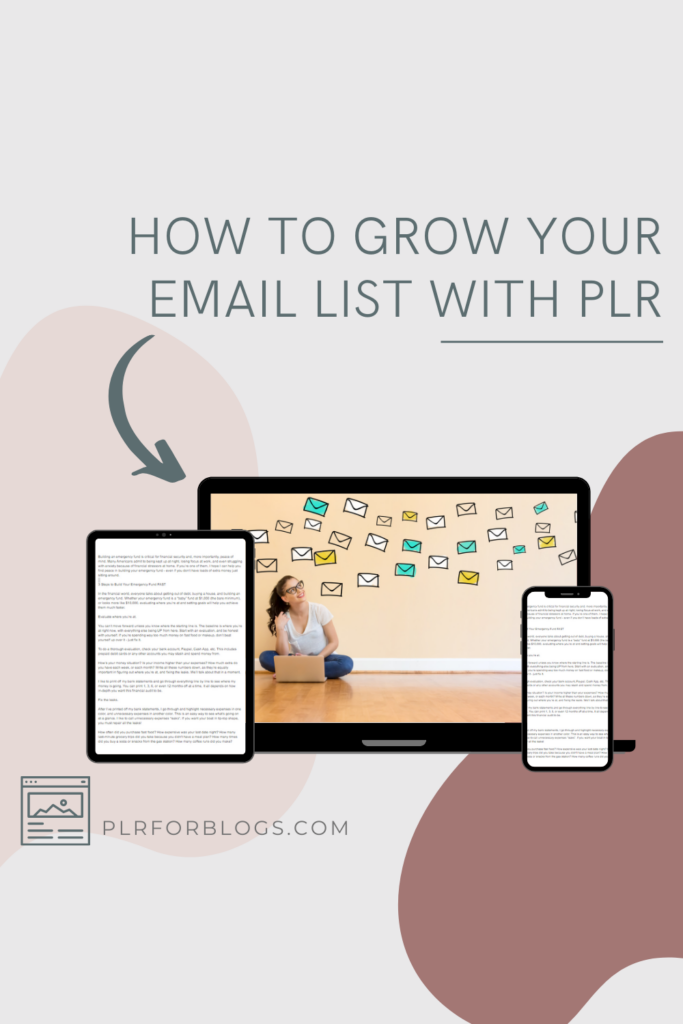 Download freebies.
I love using free PLR! Even if you aren't going to use it right away, any time you see a freebie, grab it. It may not be free in a few weeks when you're ready to put it to use. After I download PLR, I immediately load it as drafts on my blog. This ensures I can always find it when I need to. I'm not the greatest at organizing my files!
Have a plan.
Download PLR from your favorite PLR site and map out exactly what you're going to do with it. Don't buy PLR on a whim, unless it fits your niche perfectly and you know you will use it. I always use PLR with a plan in mind. Quick, grab a notebook and jot down a plan for the last PLR bundle you purchased.
Say you purchased a bundle of 5 articles. Load each article onto your blog as a blog post, or if it's short PLR (like 500 words or less), combine 2-3 articles to make one blog post. Then, save the best tidbits from those articles and add them to an email sequence. In MailerLite, it's super easy to create an automation.
Use every bit of the PLR you can! Yes, this means getting creative. Let's talk about a few ways to get creative with PLR and use it to grow your email list.
Use Canva to create opt-ins.
Repurpose your PLR into an ebook by using Canva. There are tons of free templates you can use! Simply copy and paste a few sentences at a time over to your ebook, add some graphics and branding, and download it as a PDF. BAM! Your first opt-in is ready to go, in under an hour.
Excuse my messy drawing here, but this is what my email sequences look like.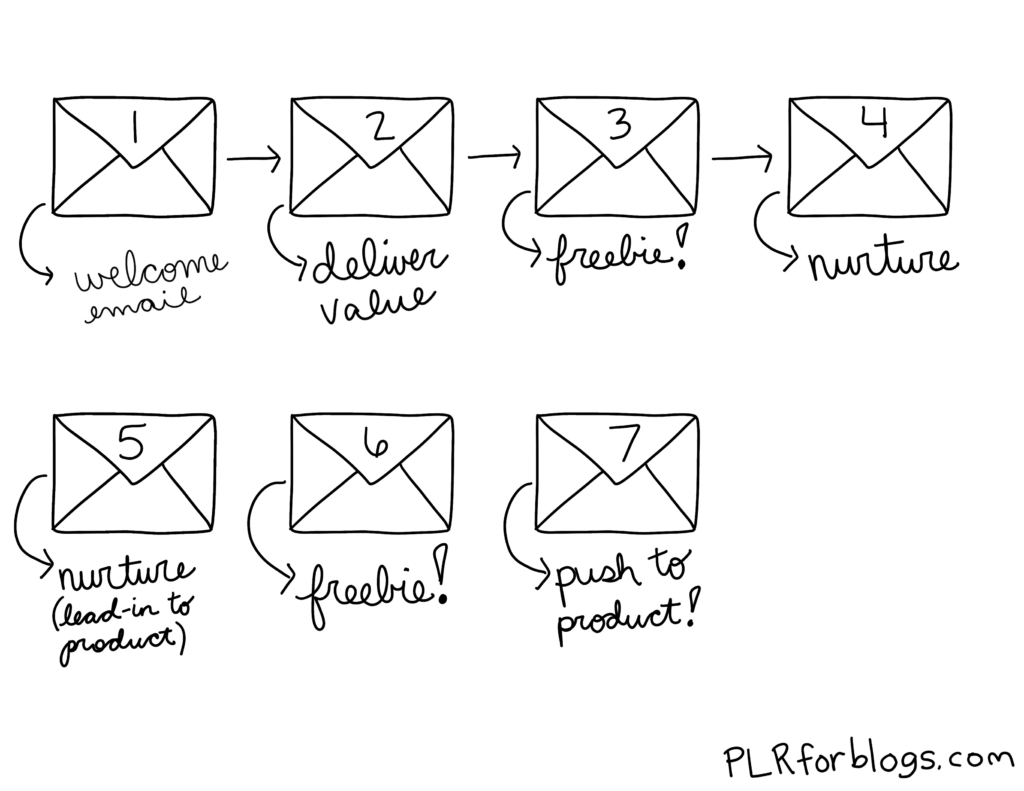 Use the PLR you have!
Don't let your PLR sit around and collect dust. This is what soooo many people do. Unpublished PLR does your blog no good. 😉 Using PLR content as freebies, opt-ins, paid products, email challenges, or just plain blog posts is fine… the key is hitting publish on whatever it is you're putting together. Yes, even if it's not perfect… just hit that publish (or send!) button. You can make it "perfect" later. 😉
Use a reliable provider.
I use MailerLite and Flodesk (referral links) for all of my blogs and websites. Using a reliable, affordable email provider is an important part of growing your list! I paid $75/mo for 10,000 users with MailerLite, but only $19/mo with Flodesk (!!), so that was an easy switch. If you aren't happy with your current provider, or if they're overcharging you, it's not difficult to move to another provider. Remember, it's your list and you have options. 🙂