How to Write Blog Posts Faster
I've been blogging for more than a decade, and the number one thing most bloggers tell me is that they need more time! Because we can't add more to the 24 hours in a day we already get, we have to be more efficient with the time we have. That is where PLR comes in!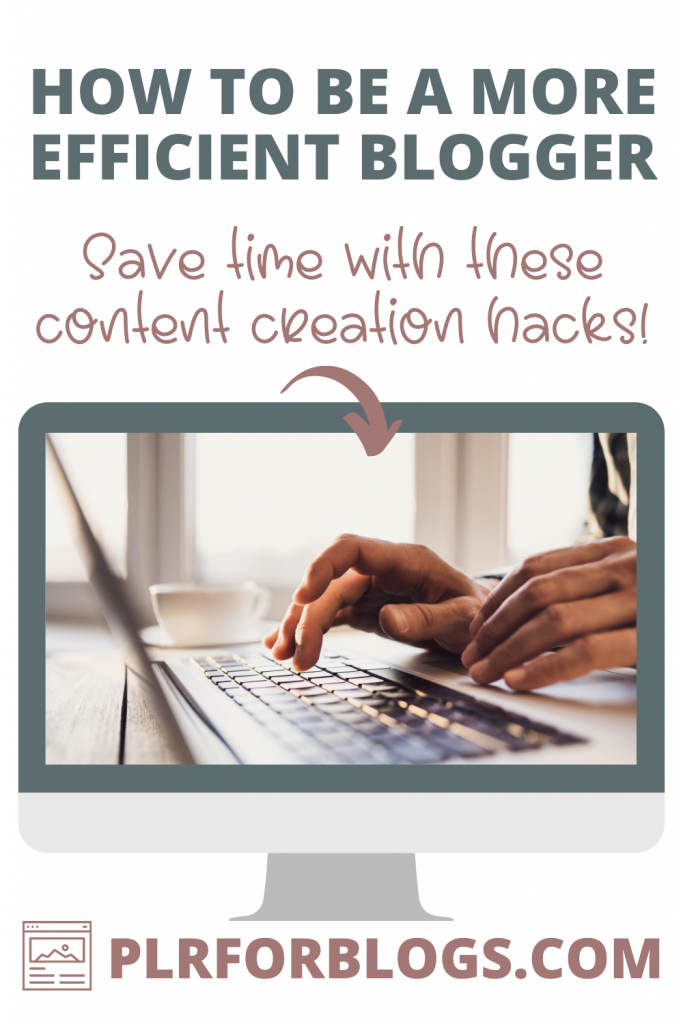 What is PLR?
PLR, or Private Labels Rights content (also referred to as DFY content), is pre-made content (articles, ebooks, graphics, etc) that you purchase to use for your blog. It's kind of like a wholesale buying club: you buy articles in bulk and get a big discount. These are not exclusive articles, but in my experience, a large number of PLR buyers never even use 90% of the PLR they buy! This means if you actually unzip the PLR and use it, you're ahead of the pack by quite a bit.
PLR is not meant to be used "as is". Use this content as building blocks for your website: blog content, ebooks, infographics, and more.
Each PLR website will have its own Terms of Use, but for the most part, PLR is purchased with the understanding that you can edit it however you'd like – or even publish as is. For best results, you want to reword, rearrange, and add to your PLR – including adding your branding! So many people skip this step and it only takes a few moment if you use a free program like Canva.
How to use PLR to launch a new blog
Instant authority! That is rare in the blogging industry, but if the PLR you buy is high-quality, you'll gain instant authority in any niche you're targeting. Follow these steps to use PLR to help you launch a new blog:
Choose a niche*. Choosing a niche is the most important part of blogging, because you've gotta like what you're talking about! If not, you will be miserable and your readers will be able to tell. There are exceptions to this, but for the most part, you should choose a niche you are passionate about. If you don't have a long list of profitable topics you would enjoy writing about, think about what you'd like to learn about. The perfect niche is one you can grow into.
Buy a domain. This domain should reflect what your niche is about. Using keywords in your domain is ideal, but it doesn't always translate well. Domains should be short, and easy to read, say, and spell. Think about telling someone about your blog in passing: will they remember it? Will they know how to spell it? Choose a domain that is easy! Don't make people work to find your site.
Build a website. Self-hosted WordPress is the only way to go here, folks! I highly recommend hosting with SiteGround at first, and then moving to BigScoots if you outgrow SiteGround.
Find content. Scour websites such as this one to find PLR content that fits your new blog. Use this PLR resource page to find the best content to get started. I love hitting up the freebies on all of the PLR sites. You don't have to spend money at first, if you don't want to.
Publish content. Now, it's time to edit and publish your content! Don't let your PLR collect digital dust. Keep reading for some tips about how to use PLR on your blog in a unique way.
*Many "gurus" will tell you that your niche has to be very specific in order to be successful. This couldn't be further from the truth. I've personally grown a lifestyle blog to six figures, and it didn't have a niche. Many of my friends have done the same. Niche blogs have their advantages, but it's more important to be passionate about a topic than it is to be niched down.
How to use PLR to expand your blog
Even if you've been blogging for years, PLR can save you tons of time – and help expand and grow your blog. Here are some of my favorite ways to use PLR to grow my blogs:
Use PLR in your newsletters. Whether you're converting PLR into workbooks and ebooks, or using PLR as-is in your weekly email newsletter, you'll have no shortage of content to push out!
Use PLR as an email opt-in. Your blog posts are going to have much better conversion rates if you have an awesome opt-in! Combine a few PLR articles into a report-style ebook, add a few images in Canva, and call it a day.
Use PLR as a paid product. If you aren't creating and selling digital products yet, you need to start… TODAY! Use PLR as the base of your ebook or e-course. You can even do an email course!
Use PLR to give yourself a break! As your blog grows, you may find you want to take a break. PLR can help you do just that! Schedule out a few blog posts as well as some social media posts, and log off. Take a break, for a day, or even a week. I promise everything will be there when you get back! 🙂
The fastest way to publish PLR
If you're in a hurry to get a bunch of content, whether it's a new or well-established blog, here are the basic changes I recommend making to any PLR you purchase:
Change the title. Whew! Such a simple thing to do but it seems like hardly anyone does this. If it says "7 Ways to Combat Stress", you could add another way and make it eight ways, but also change the topic like "Fight Stress With These 8 Proven Tips". Obviously those are just off the top of my head, but changing the title is very easy – and should be done every single time. If you struggle with titles, use a tool like this headline generator, or this blog title generator.
Write a personalized intro. Readers are coming to your blog to hear from – you guessed it – you. This means the PLR you publish should be written in a conversational tone, if that's how you write. If you write in a more technical way, make sure you find PLR that reflects your writing style. Writing a personalized intro will take five minutes or so, and sets the stage for the content you're delivering. An intro lets your reader know you're the one writing.
Interlink your related content. Part of ranking on Google with PLR is relevancy and SEO. Interlinking to related content on your blog – and linking out to related websites with higher domain authority – will help your PLR rank better.
Add new images. I rarely use the ready-made graphics and images from PLR. The exception to that is what Niche Starter Packs provides. Their Canva templates make it super easy to edit everything if need be, but I love how they look straight out the gate. If you get stock photos with your PLR, you can use them as is or easily add text to them.
Most of the PLR graphics I've downloaded look like they're from the year 2000, so I always add to them or create my own from photos on unsplash. The PLR here on PLR for Blogs includes royalty-free stock photos from unsplash, and some packages also include Canva templates. I prefer templates to ready-made graphics because you can customize in just a few clicks.
Add branding. Even when I use the images (like from Niche Starter Packs), I add my own branding – in the form of my URL on each photo. You can do this in just a few clicks in Canva.
There are many ways to customize PLR, but those are the very basics that I do to every article I purchase. Especially when you're competing with others who are using the same PLR, you've gotta stand out. These are the easiest, fastest ways to do just that!
How much does PLR cost?
Compared to hiring a ghostwriter, PLR is cheeeeeeeeeap. As long as you're buying PLR that is good quality, you'll be getting your money's worth, for sure. You'll find some PLR for less than $2 per article!
Time is money, so we always want to save as much of both as we possibly can, right? Publishing PLR on your blog can cut your writing time literally in half, or more, because you're starting with a solid foundation rather than having to start from scratch. When you buy articles that are only 300 words, you're not saving as much time, so make sure you aren't paying as much, either.
Does PLR cause duplicate content issues?
If you use it right, PLR does not cause duplicate content issues. Maybe you've heard about Google "penalizing" blogs for duplicate content. While it can happen, it's rare and reserved for the most serious of offenses, like content scraping. If you're using PLR and adding to it, rearranging it, or making it your own, you don't have to worry about it being duplicate content.
Many people who publish PLR just copy and paste and hit publish. That's not how I do it, and I don't want you to do it that way, either! 🙂 It doesn't take very long to add some subheadings, add a few sentences, reword a few sentences, and add your own images. It's much faster than creating content from scratch, and cuts out a lot of the time you are used to spending on research.